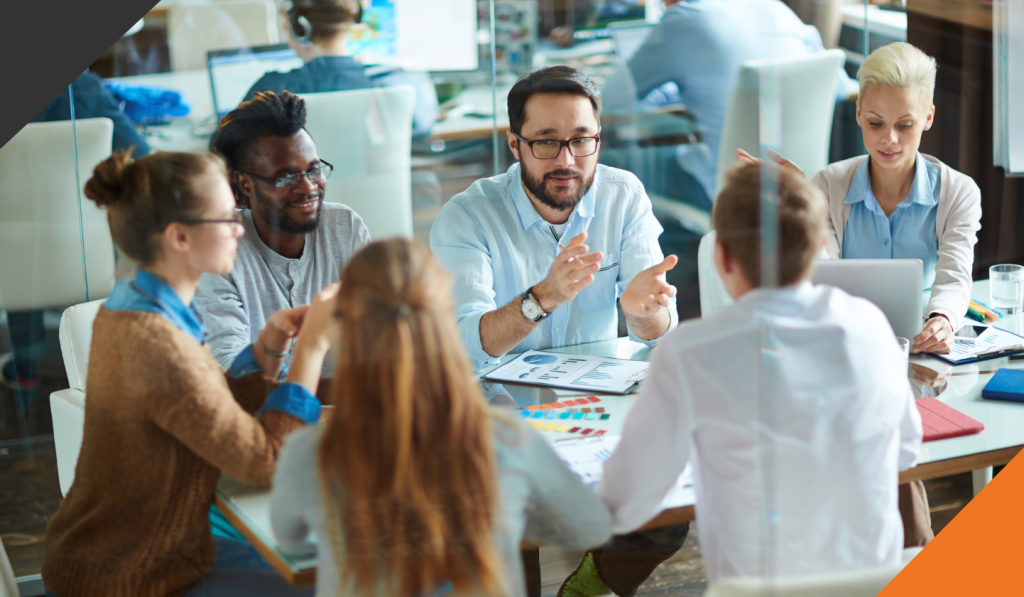 In the competitive landscape where businesses operate, every advantage counts. One often overlooked area that can make a significant difference is employee engagement. You might be surprised to learn that the key to unlocking this competitive advantage could lie in leadership training and open communication. 
CHRISTUS Health serves as an eye-opening example. This international health system faced challenges that resonate with many business leaders: a lack of authentic conversations, disengaged employees, and a culture that mistook "being nice" for effective communication. Their solution? A partnership with Fierce, Inc. to develop a leadership training program that not only improved employee engagement but also led to tangible business outcomes.
After implementing Fierce's practices, CHRISTUS Health has seen improved Associate engagement, dedication to constant personal improvement from all levels of Associates, and an increased commitment to the organization and its mission, values, and goals.
So, how can businesses apply these lessons to turn employee engagement into a competitive edge? Let's explore.
Turn "Nice" into "Effective"
In the world of business, where every interaction can have a ripple effect on your company's success, it's tempting to adopt a "nice" approach. Being pleasant and avoiding conflict often feels like the safest route, especially when resources are limited and you can't afford to lose any team members. However, this approach can be a double-edged sword.
CHRISTUS Health faced a similar challenge. The organization had fallen into a trap of being "too nice," confusing their value of compassion with avoiding difficult conversations and constructive feedback. Associates of all levels were mistaking CHRISTUS' value of compassion for avoiding difficult conversations and constructive feedback.
Being "Nice" Can Actually Be Detrimental to Your Business
Here's the kicker: avoiding difficult conversations in the name of being "nice" can actually harm your business in the long run. When employees don't receive honest feedback, they become disengaged.CHRISTUS  discovered a lack of feedback from leaders throughout the organization caused many team members to disengage from their work and the organization.
Disengagement can be devastating in any organization, especially small teams and small businesses. You don't have the luxury of a large workforce where a few disengaged employees can go unnoticed. Each team member plays a crucial role, and their disengagement can lead to decreased productivity, lower quality of work, and even a toxic work environment.
So, how do you turn "nice" into "effective"? The first step is to foster a culture of open, honest feedback. This doesn't mean you have to be harsh or confrontational. It means creating a safe space where constructive criticism is encouraged and valued, both by leadership and peers. By doing so, you not only engage your employees but also empower them to contribute to the business's success actively.
The goal is to develop a common language where people can understand principles and apply them. By transforming your approach from merely being "nice" to being "effective," you unlock a powerful competitive advantage: a fully engaged and proactive team.
The Power of Authentic Conversations
In a business, every decision counts, and often there's little room for error. This pressure can lead to a top-down approach where open dialogue is sacrificed for the sake of quick decisions. However, this strategy misses out on a wealth of untapped potential within your team. 
CHRISTUS Health provides a compelling argument for the power of authentic conversations. The organization faced a lack of genuine dialogue, which led to disengagement and missed opportunities. They turned this around by reinvigorating interactions between colleagues through honest, meaningful conversations.
Authentic Conversations Can Be Your Secret Weapon Against Competition
Here's something you might not have considered: fostering a culture of open dialogue can actually serve as a competitive advantage. In a marketplace where businesses often offer similar products or services, the way you leverage your internal resources can set you apart. Authentic conversations can lead to innovative ideas, improved processes, and ultimately, a more agile business.
CHRISTUS saw a dramatic shift when they started focusing on authentic conversations. "The number one improvement since partnering with Fierce is the creation of a common language where people can understand principles and apply them," said Scott Hopkins, Director of Leadership Development at CHRISTUS Health. This common language led to a more engaged workforce and a culture that could adapt and innovate more effectively.
For businesses, this is gold. Imagine a team where everyone feels empowered to speak up, share ideas, and offer constructive criticism. This kind of environment can lead to unexpected business solutions that you might not have discovered otherwise. It can also make your team feel more invested in their work, knowing that their input is valued and can lead to real change.
So, how can you start fostering this culture? Begin by setting an example. Be open to feedback, encourage team discussions, and most importantly, listen. Create channels for open communication, whether it's regular team meetings to discuss ongoing projects or an internal platform where employees can share ideas.
By embracing the power of authentic conversations, you're not just improving your workplace culture; you're arming your business with a secret weapon against competition. 
Leadership Training Isn't Just for Leaders
When you hear the term "leadership training," it's easy to assume that this is a resource reserved for your management team or those on a leadership track. However, this mindset can limit the growth potential of your business. Leadership qualities, such as effective communication, problem-solving, and strategic thinking, are valuable at every level of an organization.
CHRISTUS underscores this point. They implemented a Leadership Foundations program that wasn't just for top-tier managers but aimed to empower associates to share opinions, regardless of their position or age. The result? Associate engagement improved from the third quartile to the top quartile.
Your Newest Hire Could Be Your Next Innovation Driver
Here's a thought that might surprise you: that new hire, fresh out of college or with just a couple of years of experience, could be the source of your next big business breakthrough. By offering leadership training to all employees, you're not just improving their individual skill sets; you're also creating an environment where innovation can come from any corner.
In the words of Marty Margetts, Executive Vice President of Corporate Services and Chief Human Resources Officer at CHRISTUS Health, "Our approach is to get upstream of any potential issues and leverage the strengths a new leader brings to drive organizational change." This proactive approach to leadership training led to a 36% promotion rate and an 81% retention rate among their staff.
These numbers are significant. High retention rates save you the time and resources it takes to hire and train new employees, while a culture of internal promotion can be a strong selling point when attracting top talent. 
So how can you implement these strategies? Consider offering leadership training modules that are accessible to all employees, not just management. These could cover topics like effective communication, project management, and even emotional intelligence. The idea is to equip every member of your team with the tools they need to contribute effectively to the business.
By democratizing leadership training, you're sending a powerful message: every employee has the potential to be a leader and an innovator. This not only boosts morale but also opens the door to fresh, diverse perspectives that can drive your business forward.
Invest Upstream to Save Downstream
It's easy to focus on immediate concerns and put off long-term investments like leadership training. After all, when you're dealing with tight budgets and pressing deadlines, spending on something that doesn't offer immediate returns can seem like a luxury. However, this short-term focus can lead to long-term pain.
CHRISTUS found a different perspective. They viewed investment in leadership as a proactive measure, aiming to "get upstream of any potential issues and leverage the strengths a new leader brings to drive organizational change," as Marty Margetts, Executive Vice President of Corporate Services and Chief Human Resources Officer at CHRISTUS Health, pointed out.
Spending on Leadership Training Now Can Save You More Than You Think Later
The money you invest in leadership training today could save you a significant amount down the line. How? By preventing issues before they become problems that require even more resources to solve. CHRISTUS saw a 50% reduction in executive turnover after implementing its leadership training program. For any business, this could translate into substantial savings on recruitment, onboarding, and the lost productivity that comes with high turnover rates.
Moreover, a well-trained team is more likely to be engaged, efficient, and adaptable—qualities that can help your business navigate challenges and seize opportunities. This proactive investment can also lead to a more cohesive team, better decision-making, and a stronger company culture, all of which contribute to your business's long-term success.
So, what's the takeaway? Start viewing leadership training as an investment rather than an expense. Whether it's a formal program or regular workshops, the key is to make it a consistent part of your business strategy. And don't just limit it to your management team; as we've seen, leadership training can benefit employees at all levels.
By investing upstream in your team's development, you're not just preventing future issues; you're also building a stronger, more resilient business that's better equipped to succeed in the long run.
The Hidden ROI of Employee Engagement
When it comes to measuring the success of your business, metrics like revenue, customer retention, and market share often take center stage. However, there's another metric that, while less tangible, can have a profound impact on your business: employee engagement. While it's easy to dismiss this as a 'soft' metric, CHRISTUS discovered that the ROI of employee engagement can be both significant and multifaceted.
Engaged Employees Can Be Your Best Marketing Tool
Your most effective marketing tool might not be your latest ad campaign or your social media strategy, but your own employees. When your team is engaged, they're not just more productive and happier at work; they also become ambassadors for your brand.
At CHRISTUS the focus on authentic conversations and leadership training led to an increased commitment to the organization and its mission, values, and goals. Engaged employees are more likely to go the extra mile, not just in their tasks but also in how they represent your company to the world. They're the ones who will rave about their job to friends and family, share your content on social media, and bring a level of enthusiasm to their work that can be infectious.
This kind of organic marketing is invaluable. It's authentic, it's trusted, and best of all, it's free. Engaged employees are more likely to understand and meet the needs of your customers, providing a level of service that can set you apart from competitors.
So how can you tap into this hidden ROI? Foster a culture of open dialogue, offer leadership training to all employees, and make proactive investments in your team's development. These steps create an environment where employees feel valued, empowered, and engaged.
Don't underestimate the power of employee engagement. By investing in your team's well-being and development, you're not just creating a better workplace; you're also unlocking a powerful marketing tool that can drive your business forward in unexpected ways.
Transforming Employee Engagement into Tangible Business Success
As we've seen through the lens of the CHRISTUS journey, leadership training, and employee engagement are not just 'nice-to-haves'; they are essential strategies that can offer tangible business outcomes. From turning "nice" into "effective" to unlocking the hidden ROI of employee engagement, these insights challenge conventional wisdom and offer fresh perspectives for business leaders.
The surprising benefits are numerous: engaged employees can become your best organic marketing tool, authentic conversations can drive innovation, and proactive investment in leadership training can save you resources in the long run. The key is to shift your mindset and recognize that these are not just HR initiatives but integral components of a successful business strategy.
By implementing these strategies, you're not just investing in your employees; you're investing in the long-term success and competitiveness of your business. So why wait? Start today and turn employee engagement into your secret competitive advantage.